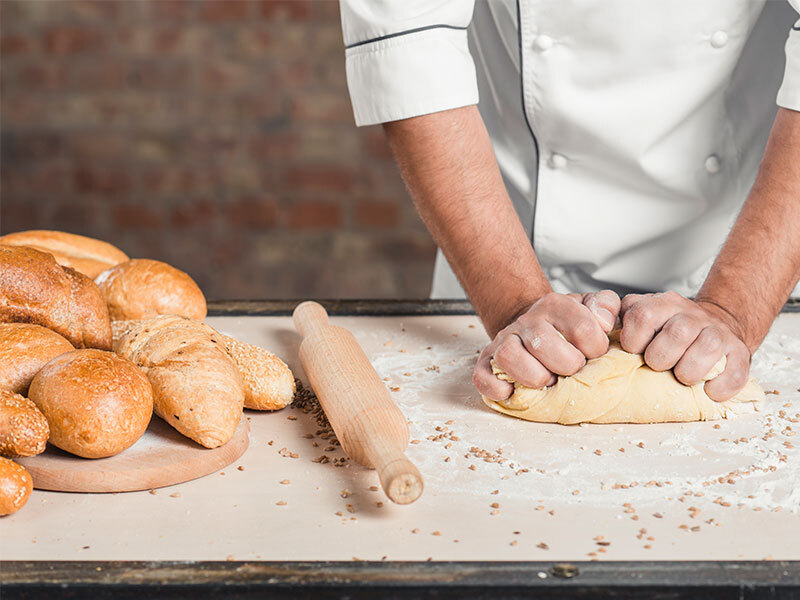 How does ice influence your bakery?
In order for your business to deliver a quality product, the ingredients used in the process must also be of quality, including the ice. Many people don't even consider this, but ice plays a relevant role in several areas of commerce, such as for those who own a bakery.
The truth is that, thanks to a very practical technique, the quality of your bread can be even better. With this in mind, we at Calabria have prepared a material to help you understand more about how ice influences your bakery, and of course, your bread! Let's get started?
The importance of the temperature of bread dough
Those who get their hands dirty every day know: one of the most important things to pay attention to when making bread is controlling the temperature of the dough. After all, if this is not done correctly, the entire gluten chain can be broken, and as a result, problems can arise with the fermentation process.
When we use a machine to knead the bread, the temperature tends to rise due to the friction of the dough. Therefore, in order to deliver that delicious, soft, and tasty bread, it is necessary to avoid thiHow ice helps in your bakery
As an essential ingredient in the dough, adding ice to the process doesn't alter or harm the structure of the recipe. On the contrary, it makes everything better!
This is because ice can help improve the performance of your bakery, adjust the temperature of the dough, and ensure that your bread comes out exactly the way you want it to!
It's important to note that the most suitable type of ice for this purpose is flake ice, which, due to its smaller size, avoids holes and minimizes the impact on the dough and bread-making machine, ensuring the integrity of the other ingredients and increasing the lifespan of the equipment's components.
Why have an ice machine in your establishment?
As we've seen, bakeries and the bread-making process as a whole benefit from ice as an ingredient. So if you own a business of this kind, it's well worth investing in a flake ice machine, like the ones you can find here at Calabria!
Where to buy an ice machine
Among the advantages they bring to your business, we highlight:
Savings in the manufacturing process: our machines operate with low energy consumption and are designed to have a long lifespan and zero maintenance stress. Additionally, you save on the purchase of ice bags, as the cheapest ice you can get is the one you produce yourself!
Practicality in your daily routine: compact, easy to install, and fully automated. All of Calabria's flake ice machines have these features, making your processes faster and more straightforward.
Quality in product delivery: the ice produced by Calabria's machines is precisely what you need to ensure fresh bread that will win over your customers' hearts and stomachs. This is because the production is done without salt, which ensures zero interference with your dough recipe.
In addition to all these advantages, you still have access to incredible payment terms, top-notch technical assistance, and a commitment to delivering your equipment at its maximum capacity.
What are you waiting for? Contact us right now and get the perfect ice machine for your business!