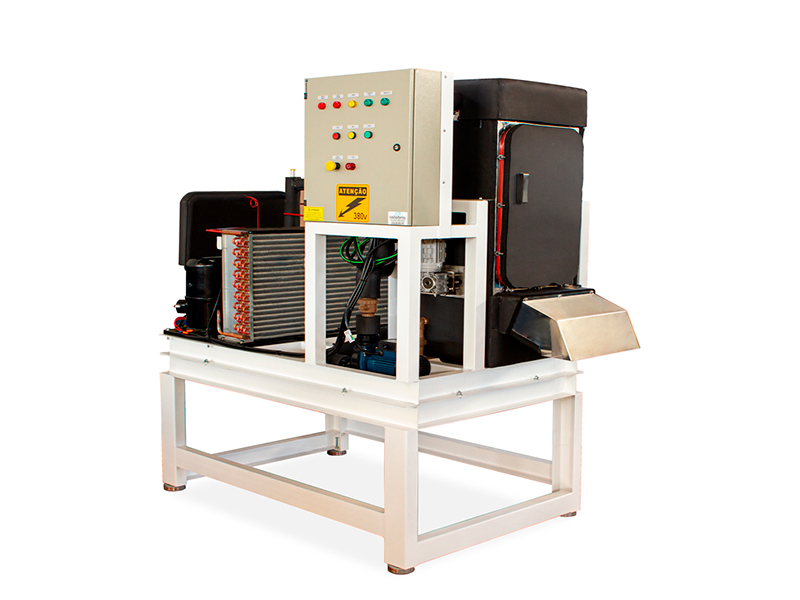 Flake Ice Machine: the equipment that will change your business
If you're looking for a compact and highly economical Flake Ice Machine for your business, Calabria's equipment is the solution! With a very low energy consumption and a unique water recycling system, it has three models with distinct production capacities and is ideal for both industry and commerce. Learn all about the Flake Ice Machine!
Flake ice machine is economical and compact
The main features of this Calabria equipment are the economy in flake ice production, due to low energy and water consumption, and the compact design that optimizes production. The Flake Ice Machine has a unique water reuse system, in which all liquid that does not turn into ice is reused in a new production, a factor that reflects in a 20% savings.
Another point of savings is in electricity consumption, which is much lower than other brands on the market. However, this does not affect the performance of the Calabria Flake Ice Machine, as it has a daily output three times higher than its competitors.
Finally, this large production does not require much space! With compact dimensions, these models produce between one and one and a half tons of ice per day and occupy a space of 1.32 m in length, without the storage bin. With the storage bin, which is an optional item, the average space used is 2.32 m. On the other hand, machines from other brands require at least 5.2 m in length to produce the same amount of flake ice.
The Calabria Ice Machine has four production capacities
This equipment has four production capacities, capable of producing half, one, two, or even three tons of flake ice per day. What varies between models are their dimensions and energy consumption.
The smallest model, which produces 500kg per day, is the latest release, ideal for small businesses. The second model, which produces 1,000 kg per day, has dimensions of 132 cm x 85 cm x 180 cm and electrical consumption of 4.74 kW. The intermediate model, which produces 2,000 kg of ice per day, has a size of 180 cm x 85 cm x 220 cm and energy consumption of 8.36 kW. The largest model, which occupies a space of 200 cm x 85 cm x 220 cm, has electrical consumption of 11 kW.
But wait, if you have no idea which one is best for your business, the Calabria technical team can help you decide, always taking into account your needs. The machines also come with a one-year warranty and all installation support.
No salt in ice production
Regarding the final product, the Calabria ice flake machine does not use salt in its production, which ensures maximum safety when consumed. This is because salt-free ice is ideal for storing perishable products that require refrigeration, and it can be in direct contact with beverages and food without leaving any residual taste or altering the flavor.
Because of this, ice flakes are widely used in fish markets, buffets, bakeries, vaccine transportation, and even in the construction industry. Therefore, it is a great asset for your industry or business!
Invest in the Ice Flake Machine
Now that you know the Calabria Ice Flake Machine in detail, you can invest confidently in the model that is most suitable for your business! The Calabria ice machines produce a potable product that is ideal for direct contact with food, without interfering with the flavor, as well as a wide range of applications.
The machines are also ultra-compact and can be installed in small spaces without compromising performance, with energy savings and water reuse. Contact us and request a quote!